Happy NaNoWriMo (National Novel Writing Month) to all my friends who are joining the challenge! I have participated in the past, but I've never "won" (written a first draft or 50k words in November). After a few attempts, I've realized that at least for this stage of life, NaNo just isn't for me. I'm a fairly slow drafter ("I'm an over-thinker" may be more accurate…) and writing an average of 1,667 words a day is just not realistic for me. Maybe someday, when more of my daily life can be dedicated to writing.
That said, I HAVE been writing, and I'm excited that I FINALLY have something to point people to when they ask where they can read my work! I've been working on a collection of short horror stories, and I'm now publishing them through Vella, Amazon's serial publication site!
Songs of the Tangled Wood is for fans of Stephen King's If It Bleeds, Joe Hill's Full Throttle, and Netflix's Love, Death, and Robots. New episodes drop on Mondays!
There are 6 episodes live now, including the three episode story, The Hotline.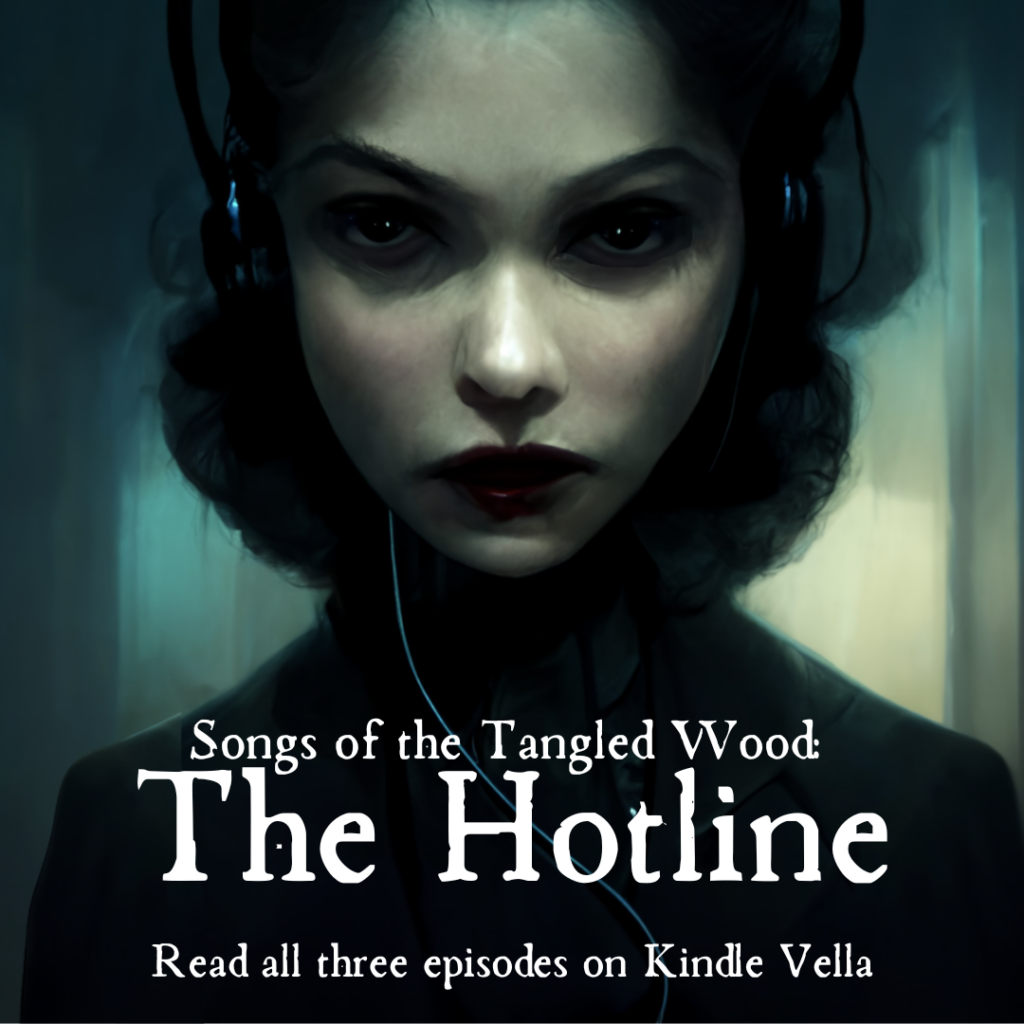 "Thank you for calling 1-800-PRAYNOW, where we're available 24/7 to pray with and for you. My name is Jenna; may I ask who's calling?"
Silence, then a crackle of breath. Jenna pressed her lips together. Great. Another weirdo.
"Hello? I can hear you," she snapped, dropping the honeyed tones. "You do realize this is a prayer hotline, not a–"
"Hello, Jenna."
Jenna half choked, her words drying to her tongue as fear flooded through her body. She had no idea why—the voice didn't sound threatening. On the contrary, the voice was an ordinary, friendly sort of baritone, yet the moment he said her name, Jenna's mind flooded with memory: biting into a peach, the juice running down her chin as the bright, sunshine taste filled her mouth, then a horrible squirming on her tongue. She'd spat, nearly retching, then stared at the three pearl-fat maggots hidden inside the peach's perfect skin.
Clutching the edge of her desk, she gulped, her heart hammering against her chest. "Who–who are you?"
"I've been watching you, Jenna, for a long time now, and I thought it was time I gave you a call…"
---

This post is part of the monthly blog-hop hosted by the Insecure Writer's Support Group. On the first Wednesday of every month, members are encouraged to write a post about their writing life and struggles, and visit other blogs in the hop to network and encourage one other. If you are interested in visiting the other blogs or joining yourself, visit the website here.